On Saturday, November 16, 2019, the Jung Society hosted "He Doesn't Have (a) Clu(e): A Jungian Interpretation of TRON: Legacy presented by Dr. Sean Hill. Attendees gathered at the Maryland Heights Community Center, where the Society screened the film and ran a concession stand with snacks, candies, and sodas. Following the TRON: Legacy screening , Dr. Hill presented on the movie's allegorical journey highlights.
In the 2010 movie, a sequel to the 1982 TRON, a brilliant computer programmer named Kevin Flynn mysteriously disappears. Twenty years later, his rebellious and troubled son, Sam, goes to an old video arcade after his father's former colleague receives a page. This "page to adventure" serves as the beginning of a heroic journey in which Sam enters a digital world known as the Grid. Though Kevin Flynn was largely responsible for the creation of the Grid, Sam soon discovers this world is no longer under his father's control. Instead, the Grid is ruled by Clu, who was compelled by Kevin Flynn to "create the perfect system."
Dr. Hill analyzed the characters and storyline of this film using Jungian, post-Jungian, Campbellian, historical, and mythological perspectives. His presentation proposed that TRON: Legacy can be understood as an allegorical journey highlighting the limitations of (self-)knowledge, encounters with(in) oneself, and transformation.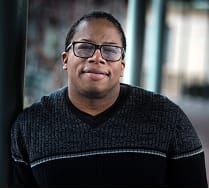 Sean C. Hill, Ph.D., is Vice President of Student Engagement at Lewis and Clark Community College in Godfrey, Illinois, where he also holds tenured faculty status in psychology. Sean received his Ph.D. from Loyola University Chicago in research methodology/human development. His scholarly interests are race, identity, chaos, complexity, and Jungian perspectives. Sean especially enjoys applying these frameworks to popular culture. He has presented at several conferences including the Mechademia Conference on Asian Popular Cultures, Winter Chaos Conference, Film and History Conference, DePaul Pop Culture Conference, and Conference of Research in Jung and Analytical Psychology. Sean authored "Toward Conceptualizing Race and Racial Identity Development within an Attractor Landscape" published in SAGE Open in 2017.