The first weekend in October, over 70 participants from diverse fields gathered for the C.G. Jung Society of St. Louis's Jung in the Heartland Conference on Myth, Meaning, and the Infinite.
This year marked the Society's sixth biennial conference, which provided interaction with outstanding faculty and varied experiential offerings. Throughout the weekend, meaning unfolded through presentations, music, dialogue, art, dream work, poetry, massage, yoga, and ritual.
Jung in the Heartland Faculty: Jungian Analyst Patricia Berry and Author Thomas Moore
The Society welcomed Thomas Moore, Ph.D., and Patricia Berry, Ph.D., as its 2019 conference faculty. Dr. Moore, the author of the number-one New York Times bestselling book Care of the Soul and 20+ other books, and Dr. Berry, a practicing Jungian analyst who served as president of the New England Society of Jungian Analysts and Training Director and President of the Inter-Regional Society and currently lectures at Pacifica Graduate Institute, have both made tremendous contributions to Jungian and Archetypal Psychology.
In addition to their individual pursuits, both worked closely with James Hillman. From 1968 to 1991, while Hillman's companion and wife, Dr. Berry played an integral role in the early, formative years of Archetypal Psychology. During some of those years, Hillman, Berry, and Moore worked together in Dallas, where an engaged Jungian community grew up around them.
Throughout the course of the weekend, Dr. Moore and Dr. Berry lectured and led discussions on topics including the myths we live, the wisdom and beauty of the gospel myth, the orphan archetype, and connecting myth to our everyday lives.
They also shared stories about growing into their current psychological and spiritual interests. Dr. Moore discussed coming out of the monastic tradition and Dr. Berry talked about her upbringing in Ohio and eventually moving to Zurich, where she met James Hillman. The two also treated attendees to a lively exchange about their time together in Dallas.
Throughout the conference, the faculty answered participants' questions, interfaced with attendees one-on-one, and chatted over meals in the King's House dining hall, which furthered the sense of community attendees enjoyed experiencing at the conference.
King's House: The Ideal Setting For a Jungian Retreat
The Society hosted the conference at King's House Retreat and Renewal Center in Belleville, Illinois, about 30 minutes outside of St. Louis. In addition to being a beautiful representation of the heartland, the property provided participants with an excellent balance of private and communal space.
King's House, which is staffed by the Missionary Oblates of Mary Immaculate, boasts 62 fully private rooms with private baths that it accurately describes as "attractive, simple, humble, and clean—no more than one needs when on retreat!"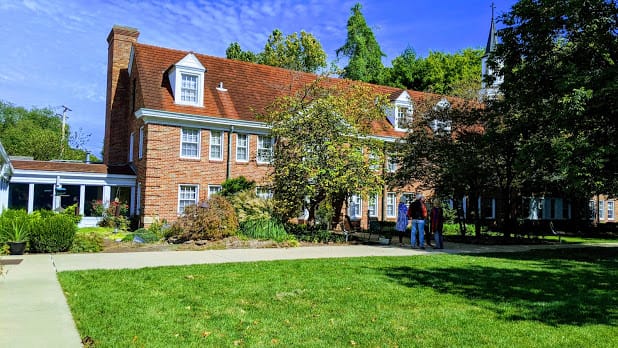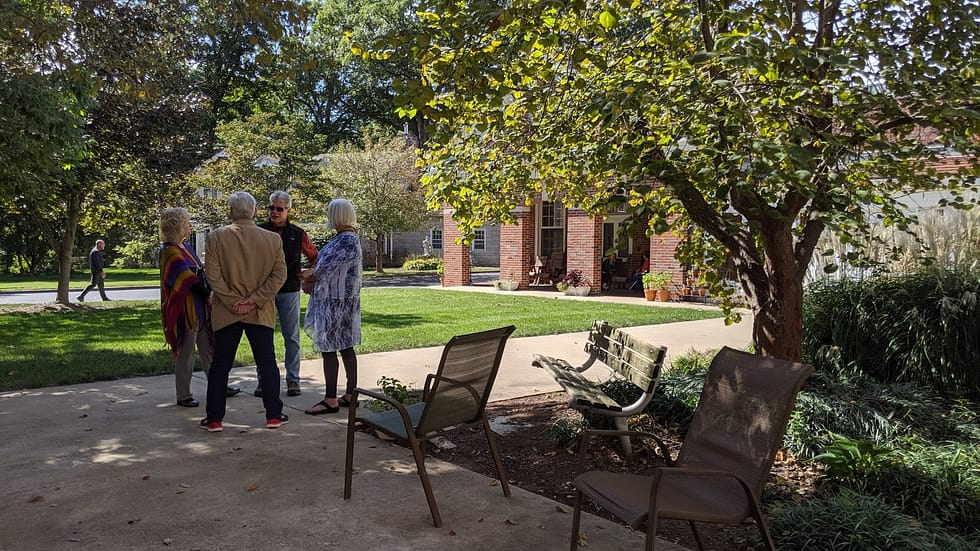 The facility also has two dining areas: a main hall and a more private room where intimate discussions—and a long-running after-hours poker game!—took place.
King's House's chapel was open throughout the weekend. It provided a meditative spot for conference participants seeking a moment of solitude, plus an acoustically and aesthetically ideal area for the yoga classes and concerts the Society put on for attendees.
The weekend was beautiful, and almost all the conference participants spent time outside. King's House's grounds feature paths, a labyrinth, a waterfall, numerous statues, a gazebo, a meadow, and more than 47 gorgeous acres. The all-weather porch overlooking the main courtyard and outfitted with numerous rocking chairs was a favorite gathering place.
Jung in the Heartland attendees filled all 62 rooms at the retreat center and some even chose to commute daily from elsewhere in the St. Louis Metro area.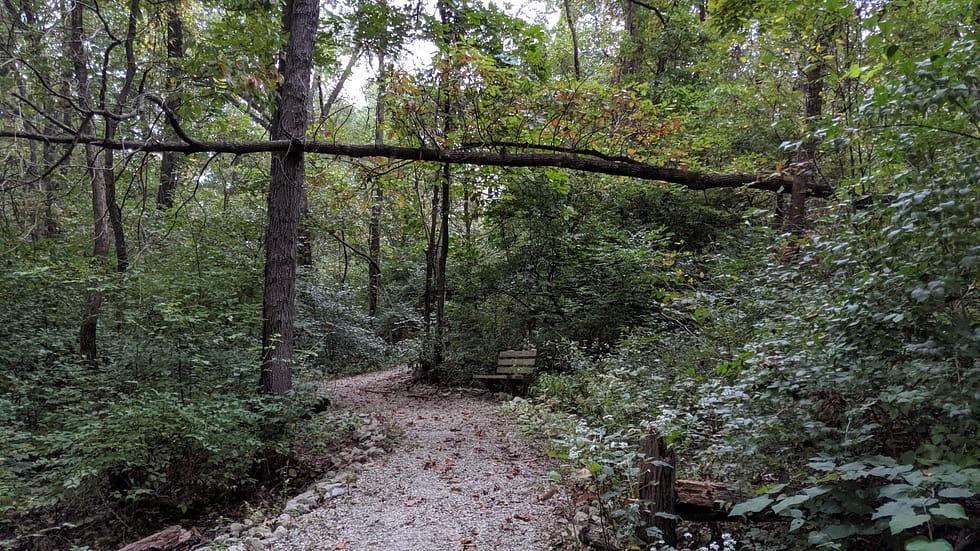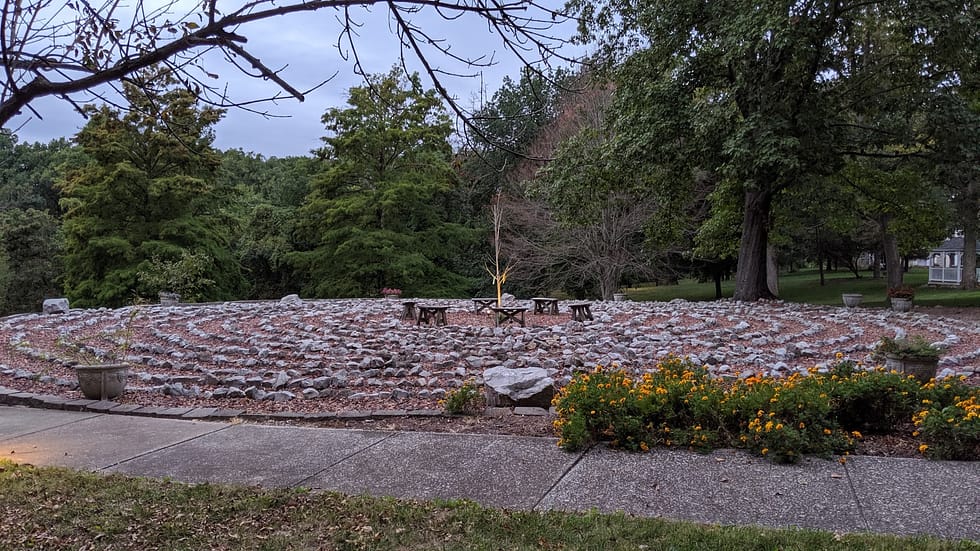 Experiential Offerings Inspired by Jung Studies and Depth Psychology
In addition to Dr. Moore and Dr. Berry's lectures, attendees were invited to explore depth psychology, archetypal psychology, and Jungian thought through other creative programming.
Yoga, chair yoga, and massage brought in the element of touch, plus mind-body awareness. Crystal bowl meditations were also led by Nancy Straatmann and Julie Schulte on Friday and Saturday evenings after dinner.
An art room—where participants were encouraged to decoupage memory boxes, hang notes, and try their hands at graffiti—was open throughout the weekend. Like the all-weather porch and the small dining room, the art room, managed by Dr. Fradi Spilberg, became a gathering place where participants bonded as they worked on their projects.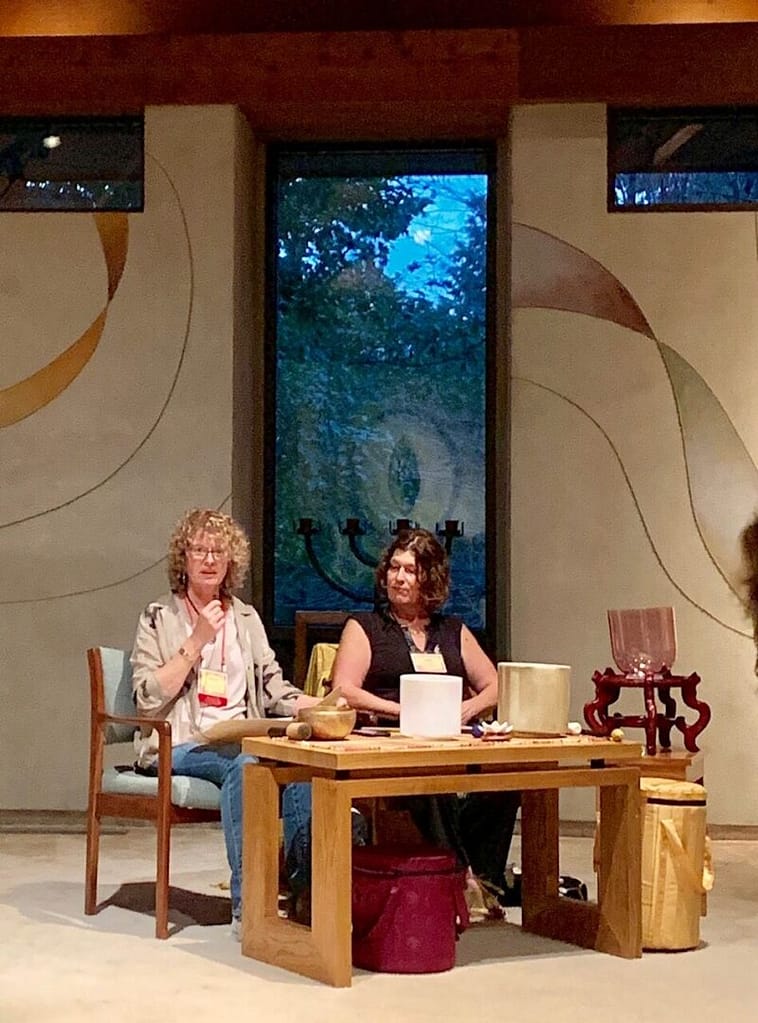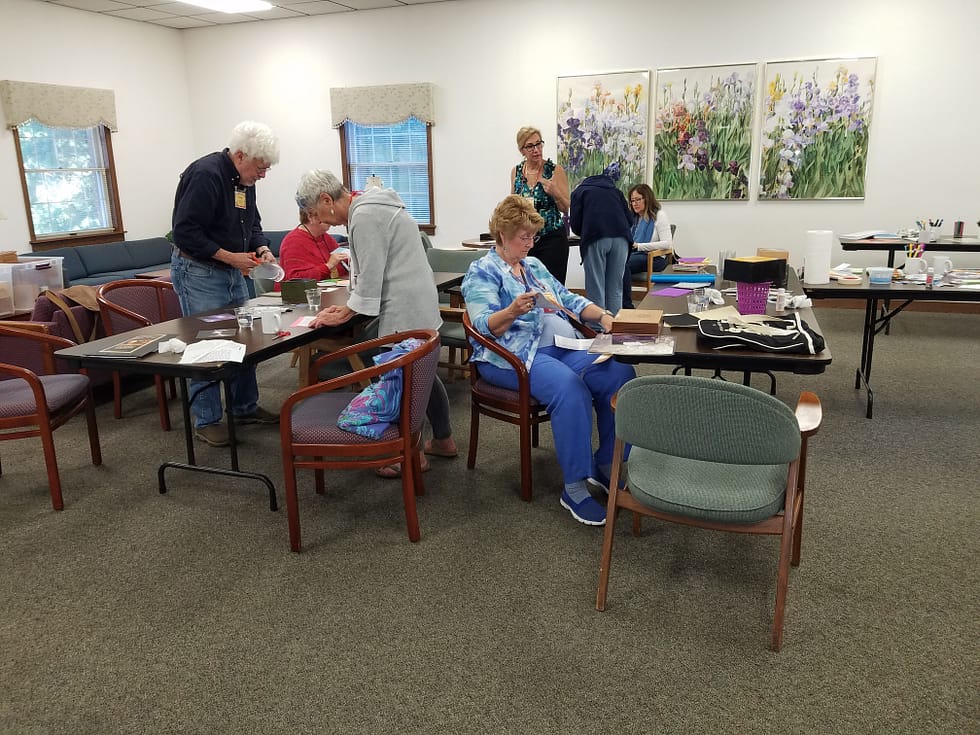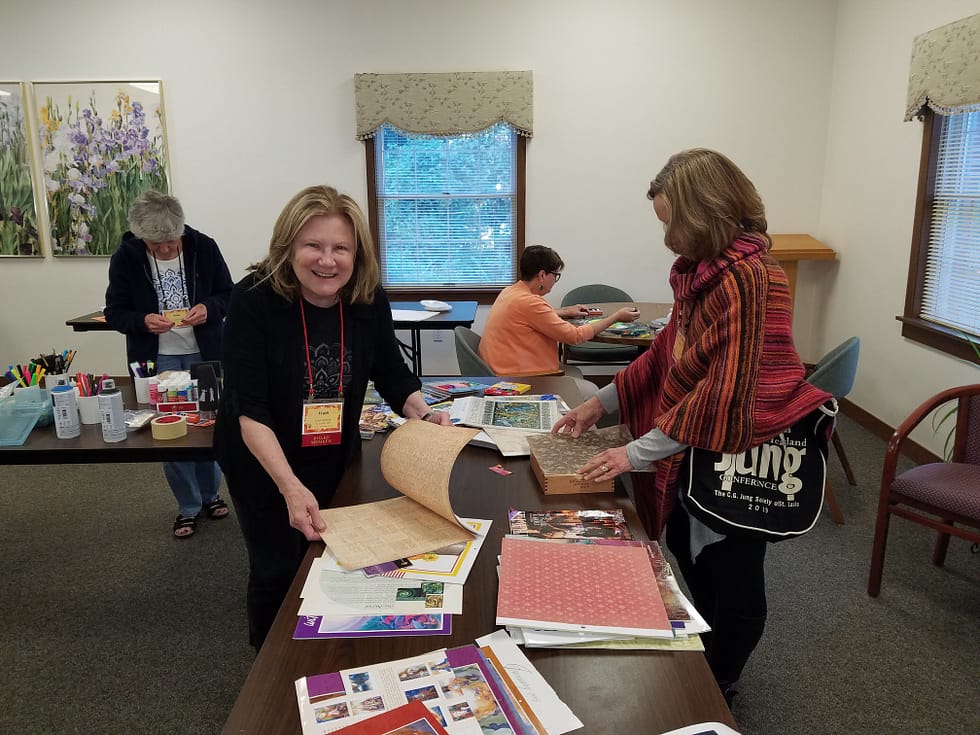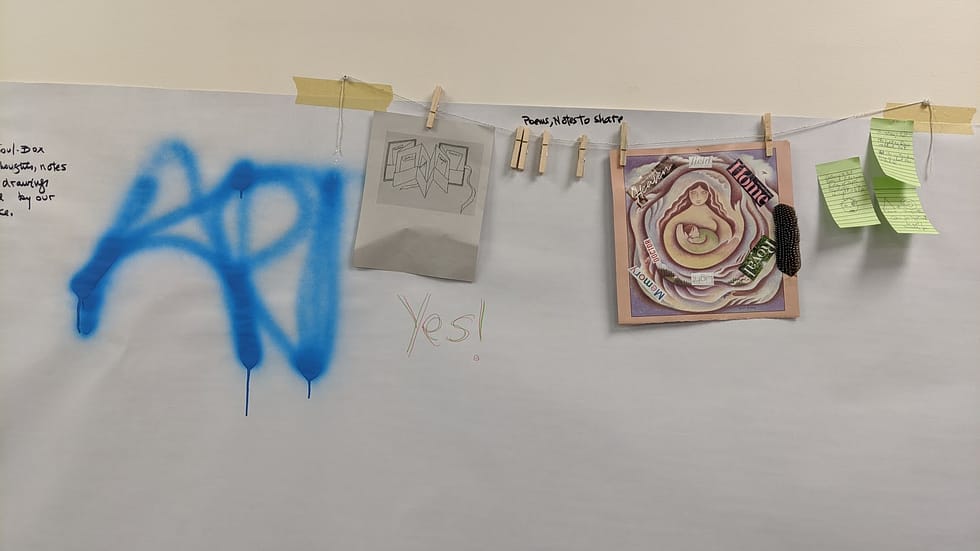 Thursday night, Saturday night, and Sunday afternoon, participants were treated to moving performances of live music in the wonderful acoustics of the King's House chapel. Ensembles included Vera Parkin, Director of Webster University's Community Music School's Preparatory Program, who accompanied student Jacob Hinton, an 18-year-old cellist, and selections included a Bach cello suite and Saint-Saens's "The Swan."
The Saturday evening program was performed by the Glass-Schene piano trio, who gave a wonderfully diverse program of musical offerings from Bach to a tango by Astor Piazzola. The closing musical offering was given by flutist Matthew Allison, and selections included classical compositions along with pieces inspired by ceremonial music from Peruvian culture.
Finally, participants were invited to present Sunday morning during a reading of favorite poems related to Jung, Myth, Meaning, and the Infinite. The lively poetry reading, reciting, and singing included selections—some planned ahead, some spontaneous—from Lord Byron, Hafiz, e.e. cummings, Joy Harjo, and even Bob Dylan, in addition to participants' own work.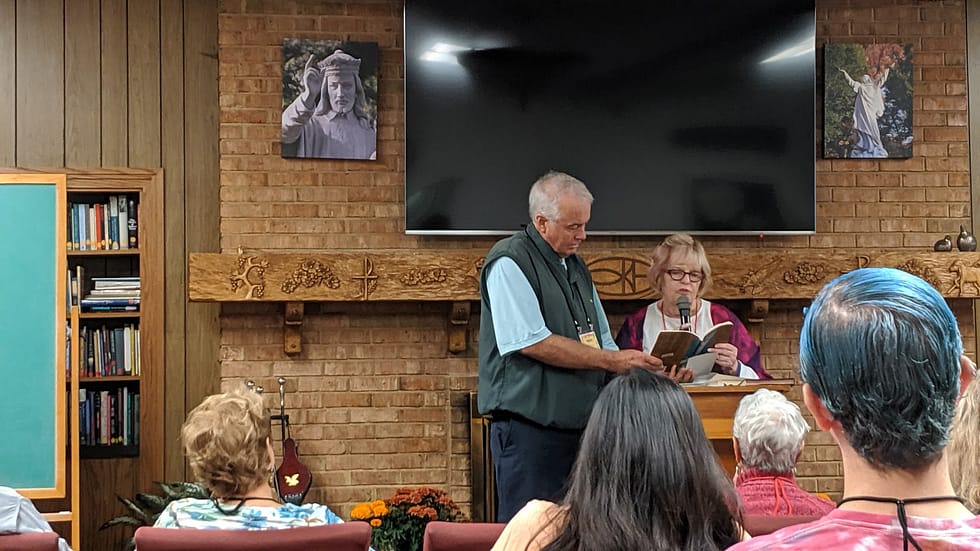 Jung in the Heartland Conference Takeaways
Polled attendees had wonderful feedback about their experiences at the four-day conference.
Of faculty Dr. Moore and Dr. Berry—and their presentations—attendees noted they were "outstanding," "engaged," and generous with their time.
"Both presenters were accessible and spoke from the heart," one attendee wrote. "The presentations were so much more than academic—came from a deep place of life experience."
"This was a fabulous conference," said another. "The speakers individually and together—synergistically—were excellent. I also appreciated the restful pace of the schedule, with generous breaks and time for walking and being in conversation."
The sense of community cultivated at Jung in the Heartland was the thing participants liked most, calling it a humanizing experience that afforded them opportunities to meet diverse people, learn about depth psychology, and choose from a variety of activities that nurtured the soul.
One said, "The people and community restored me in ways I can't even name."
For updates on the C.G. Jung Society of St. Louis's upcoming events and our 2021 Jung in the Heartland Conference, follow us on Facebook and sign up for emails at the bottom of this page.