Description
In this educational and experiential workshop, we will use monsters and folklore as our path of exploring the shadow, both from a personal angle as well as collective. We will explore Jungian theory around the Shadow, focusing on the manifestation of the monster symbol throughout history and cultures.  We will explore how this theme plays out personally, culturally, nationally, and collectively.  We will use clay to mold our own monster creature (no art experience needed), then use a process inspired by Jung's concept of Active Imagination as we create and interact with our individual symbol through its developmental cycle. This six-week workshop will include an ongoing process of personal symbol engagement, along with education and shared discussion, ultimately culminating in exploring how our personal monster symbol has moved and affected us.
Course Objectives
By the end of this course, students will be able to:
Participants will be able to identify the Jungian concept of the shadow, as well as how the shadow affects the personal and collective psyche.
Participants will create their own personal monster symbol, out of clay, and engage in a process of active imagination as a way of connecting with elements of their own shadow.
Participants will work with symbolic material in their own personal process; attendees that are therapists will also be able to translate this work into their professional practice.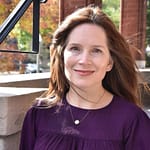 Jordan Prebys, MA, LPC, RPT-S, RSP is a Jungian influenced therapist in private practice with twenty years of experience in the field of counseling and social services. She is a Registered Sandplay Practitioner and Registered Play Therapist-Supervisor. In addition to continual participation in her own Jungian analysis process, she has been involved for several years with the Jung Association of Central Ohio (JACO) and has participated in two member art shows.