Description
"Art intuitively apprehends coming changes in the collective unconscious." — Carl Jung, Modern Man in Search of a Soul
"The ability to show us the past and the future simultaneously is precisely what great art does. The Rite of Spring is a snapshot of who we are, why we are, what we are, where we are, and where we are heading." — Marin Alsop, Conductor, Baltimore Symphony Orchestra
"These pieces are in themselves, like essays on monogenesis. They evoke responses in us that seem to demonstrate the universality of our human origins… no matter how wild and primitive it gets. You see — the folk element naturally places great emphasis on the mythic, what Jung called 'The Collective Unconscious,' which makes these early Stravinsky works like immense anthropological metaphors." — Leonard Bernstein, The Poetry of Earth (1973 lecture at Harvard)
All of these statements apply seamlessly to the creation of the original ballet The Rite of Spring. With music composed by Igor Stravinsky, set and costume design by Nicholai Roerich, and choreography by Vaslav Nijinsky, this artistic collaboration is the most influential piece of art to be born out of the tumultuous 20th century.
This program will include a short lecture on the significance of this work of art and how it applies to our understanding of depth psychology and the creative process; a video of the recreation of the original ballet produced by WNET and performed by The Joffrey Ballet Company followed by a discussion of the ballet and a slide show about its infamous premiere in Paris in 1913.
Learning objectives:
By the end of this course, students will be able to:
Understand the creative process from a depth psychological viewpoint.
Recognize alchemical and archetypal symbolism in the artwork and choreography of the ballet.
Understand archetypal music and how it affects us emotionally and psychologically.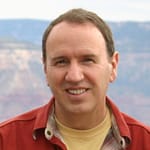 Rick has been in an intensive study of Jungian thought since 2011 including two years of analysis with a Jungian diplomate analyst. He has been a video producer of more than 40 Jungian presentations and is a Jung Society of St. Louis Board member. He is also a teacher of music video for Lewis & Clark Community College in Godfrey, IL.