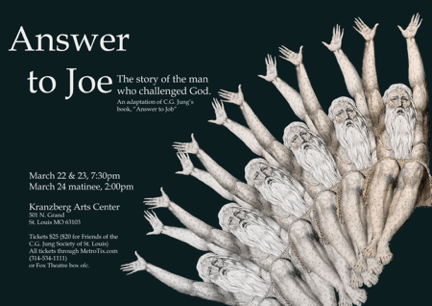 The C. G. Jung Society produced its second play, Answer to Joe in March, 2019.  The play is loosely based on Jung's book Answer to Job, and deals with the same themes—the nature of God, the reality of the divine versus an individual's image of it, and the psychological implications of an individual's often unconscious god-image.  Though these are deeply serious topics, the play presented them in modern understandable dress and treated them with considerable humor.
Rick Vaughn, author of Answer to Joe, has long been interested in Jungian Psychology and its potential for resolving inner conflicts in ways that release creative energies.  In his proposal to the Jung Society Board for possible production of his original work, he said, "My intention was to communicate some of the profound, transformative insights that I discovered from reading Answer to Job.  In the process of writing, it became clear that the work was much more personal.  This story is my story.  It may well be a story for many others.  Job's working out his relationship with the overwhelming and overpowering energies of Yahweh– which Jung equates with an individual's coming to terms with the unconscious—has been my quest for decades.  My own god-image of a punitive, demanding, and intractable old patriarch needed considerable updating.  In writing the play, I knew I was somewhat describing my own inner conflicts and working them to a more satisfying end.  I seemed to be engaging the energies bound up in an old god-image and tempering some of them so they could be directed creatively.  I'm happy with the result, and in some strange way, I feel my 'god' is, too."
CREDITS
Stage Manager – Caleb King
Set Design – Rick Vaughn, Caleb King
Costumes –  Sheila Vaughn, Fradi Spilberg
Props – Rick Vaughn Caleb King, Sheila Vaughn                       
Casting – Caleb King, Rick Vaughn
Sound/Lighting – Rick Vaughn
Sound/Lighting – Rick Vaughn
Filming – Visual Alchemy
Announcer – John Camie
Harp Music – Amy Camie
Piano Composition – Pauline Freschette
Graphics – Elizabeth Short
CAST OF CHARACTERS
Joe/Job/Summons Server – Jack Dearborn
Becky/Rebekah – Talichia Noah
Lucius/Satan/Servant – Braxton Angle
Yaweh – Mike Thompson
Sophie/Wisdom/Drummer/Angel – Tina Renard
Justin/Justice/Angel/Friend – Sean Hill
Daughter/Barmaid/Assist Angel – Linsey Stevens
Angel Mikey/Son/Baliff – Greg Jamison
UNDERWRITTEN BY
Friends of the Jung Society of St. Louis
Anonymous Donor in Honor of Alice Aslin
Joanne Callahan                          Sandy Cooper
Shirley Fontenot                        Leah Friedman            
Rose Holt                                       Nancy Kibens
Ed Steinmann                              Don Wesemann
Peter Van Arsdale                      Anonymous Donors  
And with the support of many others who worked tirelessly to produce Answer to Joe.
After each presentation, Rick and a local Jungian Analyst (Rose Holt on Friday and Saturday evenings and Sheldon Culver on Sunday afternoon), joined with the audience in lively discussions of the play and the issues it enjoined.
Answer to Joe was the second play the Jung Society has produced.  In February 2017, our first one Casting Shadows by Carol Haake was presented to sold-out audiences for three performances.  We were delighted with similar enthusiasm for Answer.